handmade singing bowls
There is 1 product.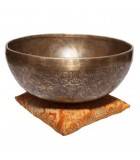 Hand made Seven Metal...

Hand hammered singing bowl made from the combination of seven different metals. The singing bowl produces a relaxing and harmonious sound which is used for yoga, music therapy and sound healings. Comes with free wooden Mallet and Silk cushion.